WARINGIN HOSPITALITY MELUNCURKAN WH COIN DI TAHUN 2023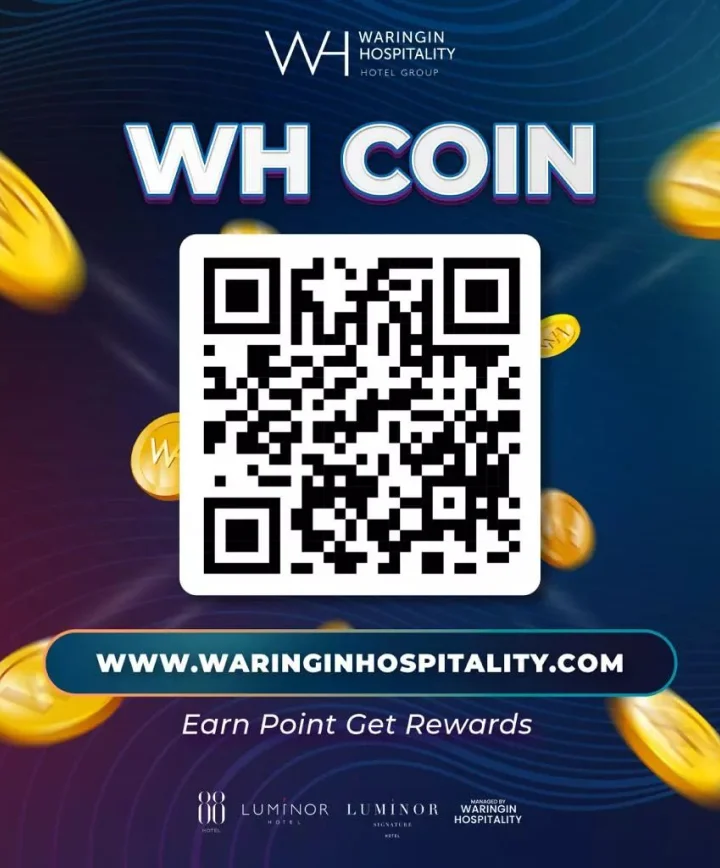 Starting in 2023 Waringin Hospitality Hotel Group opens a new chapter by giving a special surprise for you, our loyal customers. In this era of increasingly advanced and developing technology, we are facilitated by making payment transactions digitally. For this reason, in January 2023, we are launching an additional benefit for all guests with digital transactions, namely the "WH COIN" member loyalty program.
Where now you will get an additional WH COIN bonus when you make a room reservation through our website at www.waringinhospitality.com , www.hotel88.co.id , www.luminorhotel.com , or also www.rumahkitobywh.com .
Consumers who get WH COIN from the results of transactions can use the coins that have been collected to get benefits or can also be reused as a means of booking room transactions at the hotel unit you choose under the hotel network belonging to Waringin Hospitality.
At the beginning of 2023, the Waringin Hospitality Hotel Group already has 28 hotel units with 3 hotel brands, namely Hotel 88 (2-star hotel), Luminor Hotel (3-star hotel), and Manage By WH (resort hotel). Which have been spread in several cities in Indonesia such as in the cities of Jakarta, Bekasi, Bandung, Bogor, Purwokerto, Surabaya, Jember, Kediri, Banyuwangi, Gili Air Lombok, Tanjung Selor, Banjarmasin, Jambi and Palembang. We also have several hotel projects that we will open this year and the following year, namely in the area of Botani Square Bogor, Sentul Bogor, Pancoran Tebet Jakarta, Batu Licin South Kalimantan, Antasari Banjarmasin, Kasuari Gorontalo, Alam Sutera BSD, Cilegon Serang, Uluwatu Bali, Jayapura, Ambon, Sumenep Madura, and many others.
"We are continuing to work on expanding the Waringin Hospitality hotel network this year and also in the following years to advance the Indonesian tourism industry by collaborating with several local Indonesian investors. We have created various innovations for the convenience of transactions for our beloved guests. We also open opportunities for franchise partnerships in the field of hotel management for those of you who are interested in taking on golden opportunities in the hospitality sector," said Metty Yan Harahap as Corporate Director of Marketing for the Waringin Hospitality Hotel Group.
For more complete information, you can visit our Instagram at @waringin.hospitality, for franchise cooperation, you can email busdevmanager@waringinhospitality.com